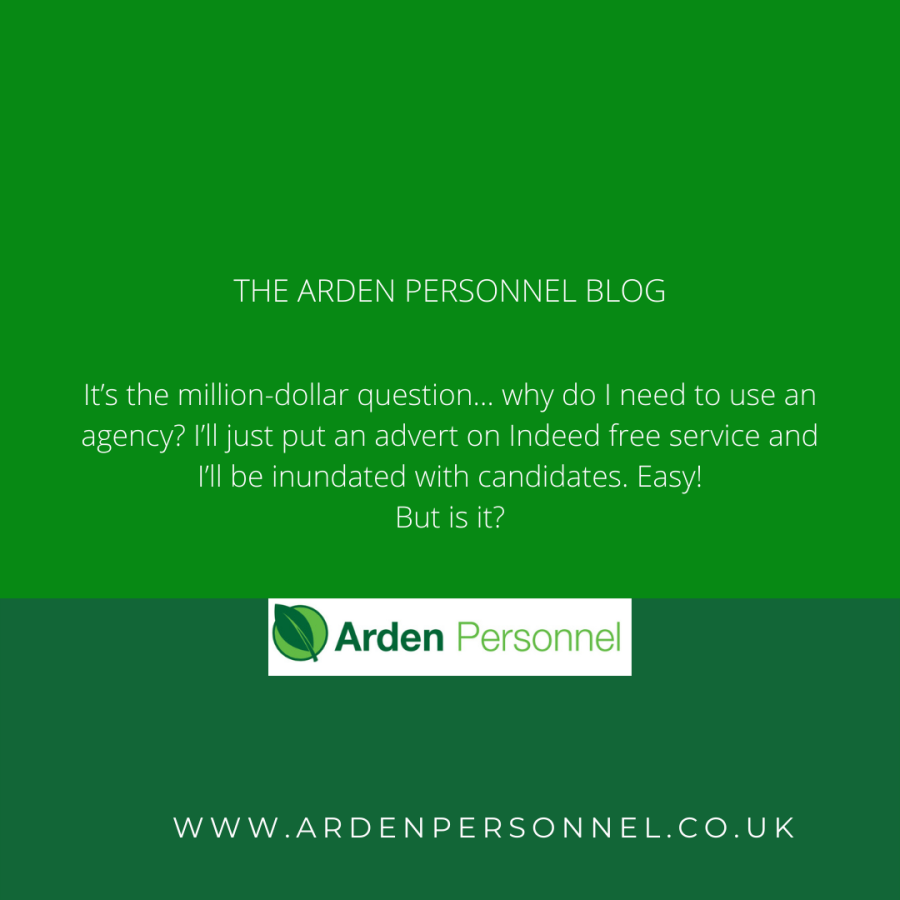 It's the million-dollar question… why do I need to use an agency? I'll just put an advert on Indeed free service and I'll be inundated with candidates.  Easy!
But is it?
As a recruitment agency, we advertise on job sites, numerous job sites.  However, very rarely at the moment do our successful candidates come from an application.  In fact 1/6 placements were from an application.  We have to work hard to find these candidates.
So why don't these candidates apply?
A lot of candidates are interested in hearing about new opportunities but not actively looking.  They will put their CV on job sites such as Reed or CV library etc and sit back and wait for a company to contact them.  This is where agencies come in.  We have to find these candidates.  We complete searches, we contact candidates, we talk to them in-depth to find out their situation. Are they just looking or are they serious about finding a new job? Why are they leaving their job? Is it money? If so what would they do if they were counter-offered by their current employer?  It's so important to take all of these things into consideration when recruiting.
Also, there is the geographical aspect.  Since COVID, there has been the greatest change in the contract between employee/employer.  As so many employees were working from home, they realised that this can work.  Therefore, many employees continue to work from home and this will result in an irreversible change in the way candidates are recruited.  It opens up so much as there are no geographical limitations.  This is something to consider when recruiting.
What is concerning, is that current statistics show job sites down 30% on candidates registering.  This is a high percentage and really brings home how things are changing.  This is where we as an agency, are utilising places like LinkedIn a lot more.  Headhunting, carrying out searches, and a lot of networking.
But we have lots of time to find the right candidate
In the current climate, it is even more important to move quickly.  We can speak to a candidate on a Monday, then by the Wednesday they go AWOL and have probably been offered another job.  This is how quickly things are moving.  It is so important to not have anything to hold things up in the recruitment process.
How can an agency help?
We have the skills and expertise to find the right candidates.  We are very good at sieving out the candidates who maybe are not serious about job-hunting and finding the ones that are and with figures showing that a high percentage of candidates are dropping out of arranged interviews, it's even more important for us to do this leg work.   When a candidate comes to you for an interview, they have already had their 1st interview with us.  We will never send a candidate to you if we have an inkling that they are not serious.
Interviewing candidates
When completing our figures, we found that for every 3 of our candidates going for an interview with our clients, we were securing a placement.  So all it takes is 3 interviews to find your new employee.  You don't have to sit there for hours on end interviewing candidates.  Let us do that for you!
We've found our new employee
Just when you think you've found the perfect candidate and you are looking forward to them starting, they get counter-offered by their current employer.  This is happening a lot.  We really have to make sure their intentions for leaving their current role are not just salary-based and a counteroffer isn't in the mix.
I know it does sound all doom and gloom but there are some really good candidates out there, it is just knowing the right way to find them.
What can we offer you?
At Arden Personnel, we can tailor our recruitment package to suit your budget and requirements.  We offer a flat fee package where you can still control a lot of the process but with our backing for just £999 (payment upfront).  You can also recruit more than one person utilising this package.  See our website for more details.
We also offer our traditional recruitment service at fees between 12.5 and 15% recruitment project depending.  With this, we offer an installment plan whereby you will be invoiced
1/3 of payment on commencement of the project.
1/3 of payment at candidate shortlist stage.
the remainder payable 14 days after the candidate starts.
If you would like to discuss any of this further, please do not hesitate to contact us on 01789 532220.