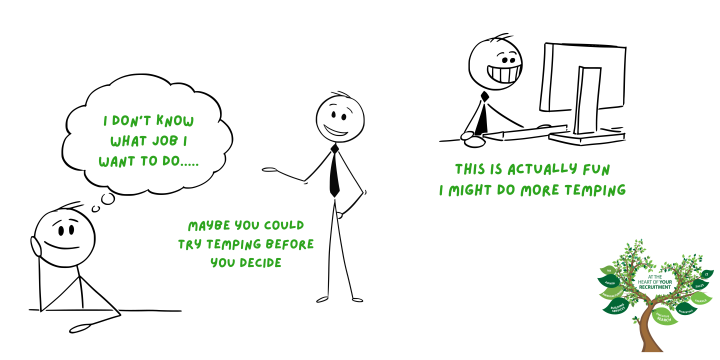 Welcome to our Temporaries Division section, where we provide resources and guidance for those interested in working as temporary workers.  You may already be temping for us, in which case in this section you will find where to submit a timesheet and how to access your payslips.
Temporary work has become an increasingly popular option for those seeking flexible employment and the opportunity to gain experience in a variety of industries.
What is Temping?
You may be new to job searching and wondering what temping actually is.  Temporary workers (Temps) are individuals who are hired by a company for a specific period of time to fill a temporary position.  Arden Personnel is the middle man between the temp and the client.  These positions can range from a few days to several months, and may be full-time or part-time. Temporary work is often used by companies to manage fluctuations in demand for increased workload, cover employee absences, or complete short-term projects.
Working as a temp offers many advantages, including the opportunity to gain experience in a variety of industries and roles, develop new skills, and make connections with potential employers. Temporary work can also provide a flexible work schedule that allows workers to balance work and personal commitments.
However, temporary work can also come with its challenges.
Temporary workers may face uncertainty around the length of their employment, the nature of their work, and their compensation.  It is not guarenteed work and if you are relying on the income, it may not be for you.
Whether you are a student looking for summer employment, a professional seeking a change of career, or anyone interested in the flexibility and variety of temporary work.
We are here to support you.  We cover the Alcester, Evesham, Bidford on Avon, Stratford upon Avon, Leamington Spa, Warwick, Cheltenham, Redditch, Studley and Bromsgrove areas, so if you are looking here and are available go and register on our website and fill in the form now!
Take me to your jobs