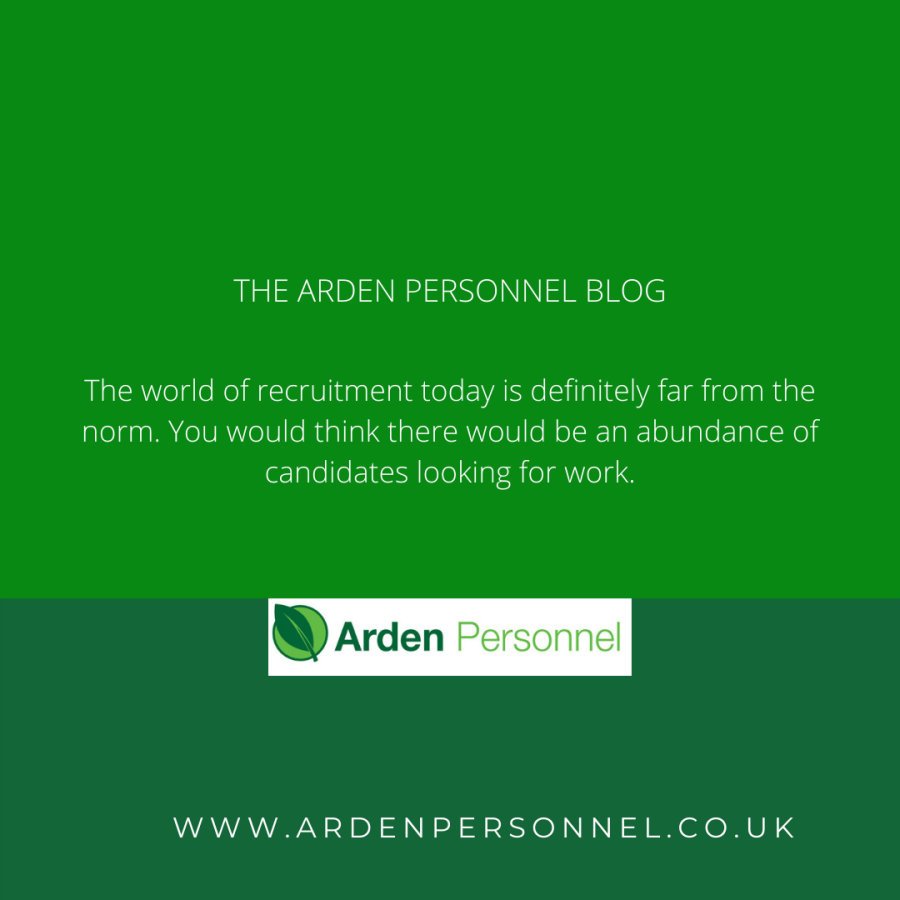 The world of recruitment today is definitely far from the norm.  You would think there would be an abundance of candidates looking for work. Wrong. There may be a lot of candidates, but there are also a lot of candidates not taking job hunting seriously.
Unemployment is on the up, but does that mean there are good, reliable candidates? No. The volume of unfilled open vacancies is considerable, and the market of available candidates seems small. Candidates are very good at being unreliable at the moment and we are finding there is a lot of "ghosting" going on whereby candidates just disappear after expressing great interest in a position.
As a Consultancy, we are speaking to as many people as possible through many different avenues. It isn't just a case of putting an advert out there and hoping the right person will apply because that very rarely happens. The majority of our successful candidates are candidates that we have physically found through searches.
Searching
It was always the case of how can we attract the best candidates. Well it's no longer really about attracting them, it's more how do we find them? We are active on Linked In, job boards etc to enable us to reach out to as many people as possible. We can no longer rely on people to apply for the roles any longer. We are experts in using Boolean search and knowing how to find the right candidates through our searches. Our statistics prove that 90% of our placements are made this way.
Focussing on Candidates' needs
In 2009 there were 10 candidates for every job, in today's market it is the opposite. Your next perfect recruit will possibly be working for the competition and not actively looking for a new role.  However, they have put their CV on job boards "just in case" and through our networking and searches we will communicate with them and they will be open to looking at new opportunities.
Using your network
We use our refer a friend scheme to find candidates who are not actively looking. It's not what you know it's who you know. Referrals are on the up and word of mouth is a wonderful thing. We pride ourselves on our reputation and candidates wanting to work with us to find them their next opportunity.
Benefits and Security
Don't always rely on using higher salaries on attracting candidates. At this present time, candidates are looking for more than just money. They want security and benefits. Also a massive selling point is flexible working. People have gotten used to working at home and want to continue with this to a certain extent.  Think about what your Company can offer a candidate, look at it from their point of view. Would you want to apply for your job?
Screening Candidates
With the current world of "ghosting" and "catfishing" on social media, candidates find it quite easy to lie about their experience, they may see it as bending the truth a little bit and making themselves a bit more appealing. As a Consultancy we speak to our candidates and are very good at finding out if what they say is the truth. You'd be surprised at what people say about themselves which isn't always the case.
Simplifying the Process
Simplifying and speeding up the recruitment process for candidates is a must in this current climate. Candidates will not stick around. We have lost many candidates due to the client taking a long time to arrange interviews or make a decision. It really is a candidate driven market and you need to move quickly so not to lose the good candidates. .
We hope this helps a little in understand the market at the moment. If you have any questions please call us on 01789 532220. Remember we are experts in our field, let us take the pressure off your shoulders and find you the best candidates for your business.
Candidates Available at Arden Personnel
Commercial Candidates
Finance Analyst – reference 13290, £25,000 pa
IT literate with experience in MS Office, Sage Line 500, Microfit and CATIA
BA (Hons) in Economics
Looking for a role in Finance
Financial Training 4 modules passed
Account/Case Manager – reference 9562, £23,000 pa
Critical thinking and excellent time management
Data Analysis and evaluate report writing
Client relations and communications
Proficient in all MS Office applications
HR Advisor – reference 2817,  £28,000 pa
15 years+ people management experience
Level 5 CIPD
Strong communication skills
HR and recruitment experience
Accounts Assistant – reference 216, £22,000 pa
Experience in Sales and Purchase ledger
Self motivated and conscientious
Proficient in Sage Line 50, Enhance diploma level 2
Can work in all aspect of Accounts
Building Services/FM Candidates
Maintenance Electrician – North West
Holds 18th edition, testing and inspection and level 3
Over 15 years experience working on electrical maintenance and general FM
Multi Skilled Engineer – Midlands
Holds full commercial and domestic ACS Gas tickets as well as F Gas
Over 10 years experience in PPM and reactive maintenance
Water Treatment Engineer – South East
Over 10 years experience in water treatment, sampling, monitoring
Recently legionella risk assessing
Fabric Engineer – Midlands
Level 3 qualified in plumbing
An all rounder on FM Building Maintenance
If you would like to discuss any of the above, please call us on 01789 532220 or email us and arrange a time to talk.