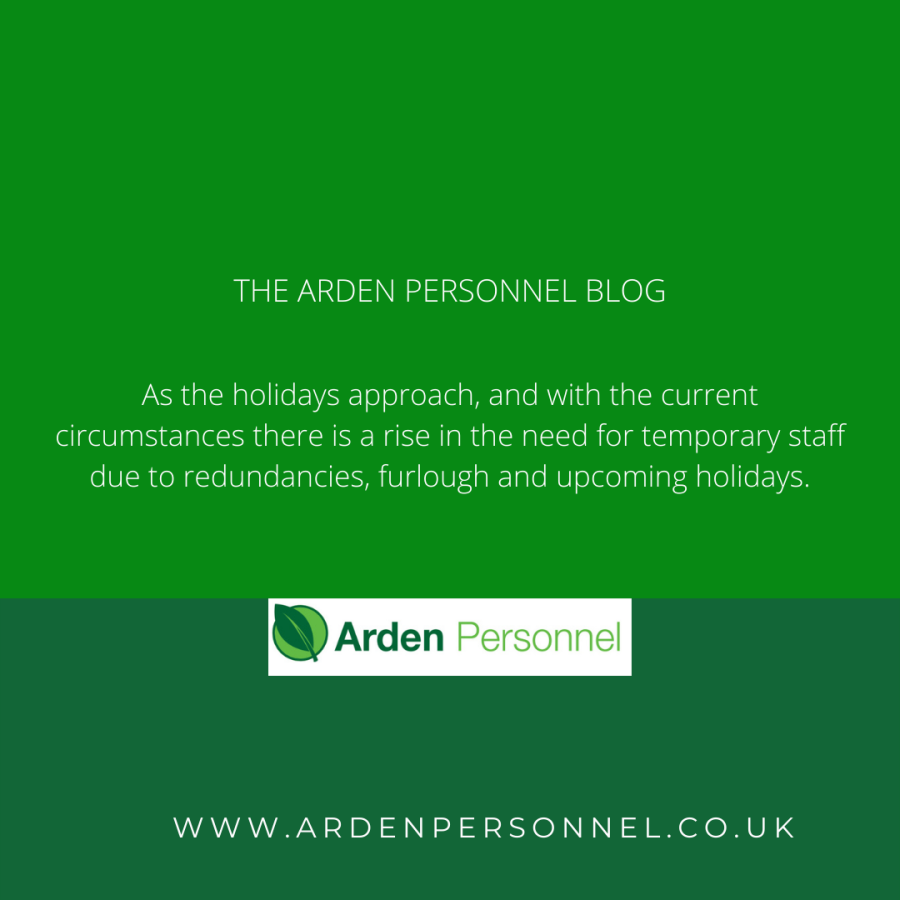 Temporary Workers – why should you use them?
As the holidays approach, and with the current circumstances there is a rise in the need for temporary staff due to redundancies, furlough and upcoming holidays.
Busy at peak times?
If your business has peak times where it is busier or is seasonal, temps can be the perfect solution. You may not want to employ a permanent employee when there are only certain times of the year you will need the extra help.
Special Projects
It once was the case that temps were only industrial or low-level admin candidates. However, this is no longer true. Temps can be for any position bringing new skills and perspectives to their role. Ultimately this will improve efficiency within your business.
It may be that you have a new project that requires skills outside of your team's area of expertise. In this case, bringing a temp into the business to keep things moving for this particular project is the ideal solution.
Budgets
With temporary staff earning an hourly rate, it can work out more cost-effectively for your budget than paying a permanent salary. It isn't necessarily a long-term solution. However, if only required for a few weeks or months, it can be the better option cost-wise for you.
Temp to Perm
If you are looking for a permanent employee but require someone urgently, a temp to perm option may be perfect for your business. Hiring a temp is a fantastic way to see if they would be the ideal candidate for your possible permanent role. Hiring the wrong person for your position can be a costly process. Hiring a temp is a sure-fire way to test the waters.
Business Solutions
All in all, there aren't many cons to hiring temporary staff. If you have trustworthy, honest consultancy doing the hiring, ensuring they are well-vetted, referenced, and ready to go, it really can be a perfect solution all around.
For all of your temporary needs, call Arden Personnel on 01789 532220 or email us at admin@ardenpersonnel.co.uk.
Top Temps
Please find below 3 of our top temporary candidates available at the moment. Just click on their reference to request further information. You can also book the candidate for a temporary assignment.
Reference – Ap-5 (Office Manager/Admin)
Location – Redditch
Pay Rate – £10 per hour
"I am highly experienced in administration and customer service across a range of industries including dealing with people face to face, on the telephone, and by email. My experience includes all aspects of administration, I have experience using SAGE accountancy and Microsoft programs.   Recently undertook several online courses to improve my skills including accountancy software and Microsoft Office Products."
Reference – LT-55 (Production Planner)
Location – Redditch
Pay Rate – £9.50 per hour
"I am a competent person with good IT skills and a quick learner on new systems. Seeking for responsibilities and a challenge in a professional organisation and use my diligently, educational and experience cost analysis, purchasing, value engineer and material planner, capable to adapt to any team environment."
Reference – BT-57 (Bookkeeper)
Location – Bromsgrove
Pay Rate – £13.00 per hour
"I enjoy working as a member of a team as well as working on my own.  I am flexible, reliable, trustworthy, conscientious, committed, accurate, level-headed, approachable, likable, articulate,  very well organised.  I get on with all ages and have an outgoing personality together with a good sense of humour and plenty of common sense.  I would be an asset to any   new company and good all-round experience on accounts and plus word processing ability."
To speak to a consultant call us on 01789 532220 or email admin@ardenpersonnel.co.uk
Arden Personnel Brochure
Happy with our Service? leave us a review here