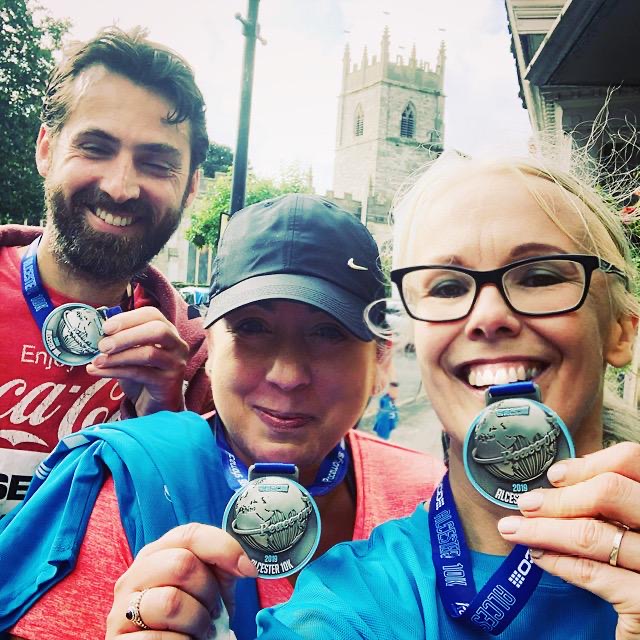 The Seco Alcester 10k came to town for a fifth successful year on Sunday 6th October and Arden Personnel were geared up to play a part in the excitement in more ways than one!
Not content with being one of the sponsors of the Alcester 10k, the Arden Personnel team decided to dust off their running shoes and join the runners too.
Managing Director Lissa and Office Manager Nicki – joined by Lissa's partner Alistair – registered for the race in the summer and embarked on a 10k training programme to make sure they were race fit in time for October.  Unfortunately, Lissa sustained an injury early on and she was no longer able to train.  However, she is a tough cookie and just two days before the event she decided not to let her race number go to waste and announced her decision to give it a go!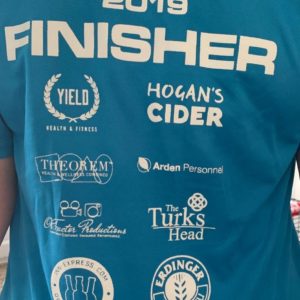 Our three runners had a successful race!  Nicki cleared the 10k in just under 1h 15m and despite the fact that Lissa said she wanted to cry after the 6k mark, she carried on and finished the race in style – all after barely any preparation.
Arden Personnel are proud to support the Seco Alcester 10k which raises funds for Kids Run Free, a charity that aims to inspire more children to be active and healthy through regular running events in parks and with a Marathon Kids initiative in UK Primary schools.
Sunday 6th-Saturday 12th October is Mental Health Awareness Week and taking part in physical activities such as running is a great way to lift spirits and improve our mental wellbeing – something that our team at Arden are incredibly passionate about.
After the race Lissa said: "I am a firm believer in introducing our future generations to the benefits of staying fit and healthy, and exercise is such a great confidence builder  for them too!  Recruitment can be a very stressful industry at times and I always look for ways to help my team manage any stresses or worries in the office – we have really enjoyed taking part in the Seco Alcester 10k this year and it was a great way to kickstart Mental Health Awareness Week"
The race medals are now proudly on display in the Arden office and there is already talk of entering in 2020… watch this space.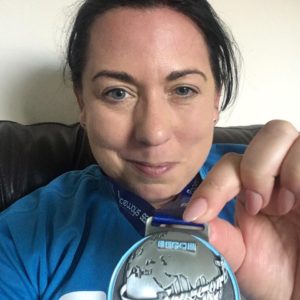 For our latest vacancies please visit Arden Personnel at www.ardenpersonnel.co.uk and on all social media platforms.
Arden Personnel are committed to finding you your next position, we will help you find your perfect opportunity.
We aim to contact successful applicants within 24 hours, if you do not hear from us within 48 hours if may mean that your application has been unsuccessful.
However, we may have other opportunities that would suit you.
We recruit in the following sectors:
Commercial – Administration, Accountancy & Finance, Sales & Marketing, Customer Service, HR and IT.
Building Services – Operational Management, Engineering/Facilities Management & Electrical, Supervisory, Contract & Project Management, Business Development, Senior Level
Manufacturing – Technical, Engineering and Manufacturing
The areas Arden Personnel recruit in are:
Alcester, Redditch, Studley, Bidford-on-Avon, Stratford-upon-Avon, Evesham, Broadway, Pershore, Moreton-in-Marsh, Bromsgrove, Chipping Camden, Warwick, Leamington Spa and Henley-in-Arden